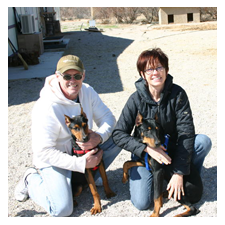 A friend of mine from Mexico told me about 2 dobies that were living in small cages. I told her to find out how much we could buy there freedom for. She got the guy down to 200 dollars and by the next day she was on her way to meet us in California. We were unsure with what to do with them until we found another local rescue. They were our first and inspired what we do today.
Read about our success stories!
A Home 4 Spot is a volunteer-based organization that provides foster care and medicine while seeking permanent homes for abandoned dogs. Founded by a Las Vegas resident, A Home 4 Spot began operations in March 2009. Since that time, the 501(c)(3) nonprofit organization has saved over 6,500+ local dogs from being euthanized. Since the beginning of 2012, the organization has raised over $1,000,500 for the medical treatment of animals that would otherwise be killed.